You have access to more health information than you ever knew you wanted or needed in the digital age. But when it comes to getting healthcare info online, it's essential to pay close attention to the reputability of your source. Not every virtual healthcare resource provides quality information, and many don't even have their content reviewed by licensed doctors for accuracy.
If you mistakenly trust a low-quality resource for help with something you need treatment for, you could get bad advice. And if you take that advice, it could set you back from getting the medical care you need.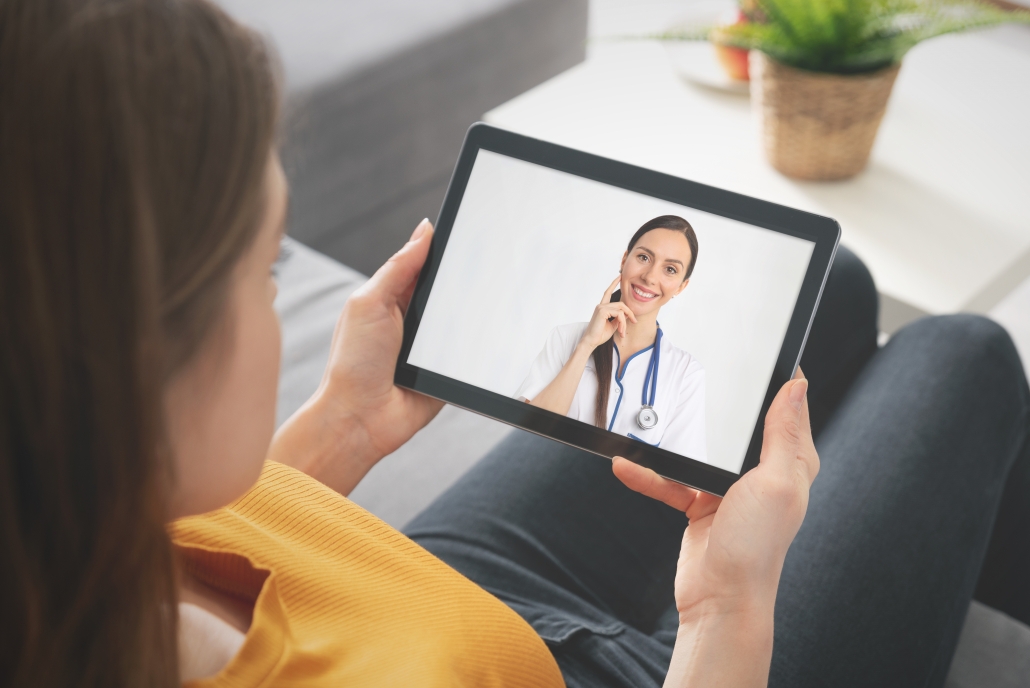 So how can you go about getting physician-backed healthcare advice on the internet? Here are five ways to tap into your health online.
1. Chat With an Online Doctor
Telemedicine makes it possible to schedule an affordable visit with a licensed medical professional from any internet-connected device. And speaking directly with an online doctor is the most reliable way to get personalized advice for non-emergent health conditions.
You can choose your preferred physician for primary care appointments and continue seeing that doctor for all your future visits. If you're experiencing a medical concern, you can easily schedule a virtual visit with a licensed physician. For urgent care concerns, you'll have an opportunity to speak with a U.S.-based doctor at any time, day or night.
When you schedule an online doctor's appointment, your provider will discuss your health concerns with you in detail. Your doctor can diagnose you or refer you to a specialist for more extensive testing or imaging based on your symptoms. If you require lab tests, your online doctor can order those for you and provide you with a breakdown of your results.
Telehealth doctors can also:
Perform routine check-ups and follow-ups
Monitor chronic health conditions
Prescribe and manage medications
Provide mental and behavioral health support
Provide treatment recommendations for minor injuries
Diagnose and treat sexually transmitted infections
Provide preventative healthcare, including screenings and assessments, health and nutrition recommendations, and stress reduction advice
Treat skin and hair conditions
Help you with sleep problems and insomnia
Provide treatment for alcohol dependence
Help you manage various chronic health conditions, such as diabetes, hypertension, high cholesterol, allergies, asthma, and GI disorders.
High-quality, virtual healthcare clinics are designed to mirror brick-and-mortar medical clinics while offering more accessible and convenient services. When you schedule a virtual visit, you get the same quality of care you'd get at a doctor's office but for a more affordable price. And, you get to avoid the hassle of driving, extended wait times, and rearranging your schedule for an office visit.
2. Submit Anonymous Health Questions for Physician Review
When you have a potential health concern and want reliable medical advice without a virtual visit, you can ask questions online. But before you start asking, verify whether the site you're using provides answers from licensed, practicing physicians.
Using an online medical question-and-answer tool, you can submit anonymous questions about your health at any time, day or night. A licensed doctor will review your inquiry and associated information and respond within hours of submission. Some tools place no limit on the number of questions you can ask, and you'll receive an expert answer to each one.
If the answering physician believes you need a virtual visit for a more extensive evaluation, they recommend you schedule one. If the care provider thinks you should schedule an in-person visit with a specialist, the same idea applies. But if your health concern may require immediate care, the answering doctor will urge you to visit an emergency medical facility as soon as possible.
3. Peruse an Online Library of Doctor-Answered Health Questions
Online healthcare databases offer a wealth of health information, provided licensed physicians answer the questions in the database. If you'd like to learn more about a potential health concern without asking a direct question, browsing a database may help you.
To get physician-provided information from such a database, you can search for symptoms or a health topic you'd like to read about. You'll receive an extensive list of questions asked by other individuals with similar health concerns. After browsing the answers at your leisure, you'll have a better idea of how to handle your situation. You may want to move forward with submitting your health question for personalized advice on recommended next steps.
4. Use a Quality AI Symptom Checker
Online symptom-checking tools have made considerable advancements and can now provide you with accurate health information. Today's doctor-trained AI has been carefully designed to provide easily accessible care recommendations based on your symptoms.
To get information on a symptom you're experiencing, you'll answer a series of questions from an AI symptom checker. The tool will then use your answers to generate a list of possible diagnoses. You can learn about each condition to determine if it may apply to you, and the system will recommend treatment options.
5. Browse Government-Sponsored or Physician-Reviewed Health Websites
If you'd like to learn more about your health and wellness, many websites share various health-related information. But not all these websites provide reliable info — even if they happen to land on the first page of your search results.
To ensure you're getting research-backed advice and information, it's in your best interest to rely on websites reviewed by medical experts. You can find a wealth of science-backed information on government-sponsored healthcare sites, whether you're searching for specific symptoms or general health and wellness info. You can also get quality information from reputable health sites that submit their content for physician reviews, such as Mayo Clinic and Cleveland Clinic.
Tapping into your health online isn't difficult, and in many cases, it's far easier than getting yourself to a doctor's office for advice. But if you're going to rely on online health information, you must be sure you're using a reputable, physician-backed resource. If you're looking for a convenient and affordable way to get reliable healthcare and medical guidance, virtual healthcare services may be for you.